Custom Machining
R&S services the steel mill and pulp and paper industries, as well as power generation plants in the manufacture and repair of various precision machined parts.
We offer turning capabilities on our vertical lathe of 54" in diameter, and 27" in diameter by 10' in length on our horizontal lathes. Our CNC capabilities are, at present, 1 horizontal machining center that utilizes a 30" pallet, as well as 1 chucking lathe that can turn 25" diameter. Both machines are capable of holding exacting sizes and are always kept below capacity so that we may offer quick service to either, our existing customers, or new clients that require our many services.
We manufacture a number of OEM components for various industries, including pumps, turbines, centrifuges, etc. We recognize the need for cost effective solutions for our customers and are always searching to better our processes . Our pump experience allows us to work with various aspects of the fluid transmission business with confidence.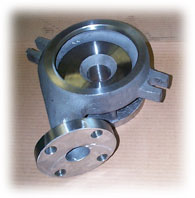 R&S is also a proud manufacturer of a line of variable speed drive components for one of our valued customers, who in turn assembles, tests, and ships worldwide. We manufacture, balance and trial assemble components for this, as well as other customers that have any special needs.
R&S offers, to all of our many customers, a 24 hour service with pickup and delivery as an option for speedier service.
The facilities of R&S work to the ISO 9001-2000 quality system, and have been registered since June 2001 wih SGS international.